For any table worth setting, any guest worth inviting and any meal worth eating.
In the 365 days of our calendar year, it's likely that none go by without the need for a specific set of tools. If eating is essential to life, how have we gone so long unconscious of the design and form of the instruments that deliver food to our mouths?
Tired of the everyday-ordinary of modern cutlery, product designer Nicholas Johnston and restaurateur Kristian Klein have bridged their complementary skills in design and hospitality to challenge the generic prototype for what might arguably be our most important toolkit.
For the last three years, they've explored various periods and cultural traditions, assessing the ergonomics of how we eat, how we handle food, and how we set our tables. They've asked: How many fork tines are best for twirling a spaghetti vongole? What is the optimal spoon volume for a bowl of Wheaties? What types of serrations are necessary for getting through a tough piece of steak or the hard crust of sourdough? Pertinent questions that only refined design can answer.
After scouring the world to find a Maker with the same passionate attention to detail, they arrived at one whose philosophy aligns with theirs — selecting the highest-grade materials, precise German forming machinery, and hand-polishing mastery.
Distinctive, durable, contemporary and functional — their instruments are created for any table worth setting, any guest worth inviting and any meal worth eating.
Welcome to KROF.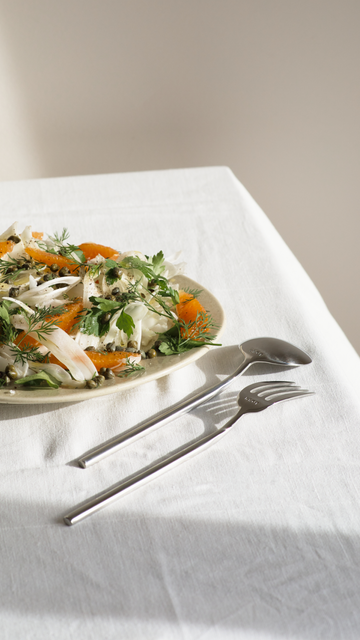 Meet our Founders
Meet Kristian Klein and Nicholas Johnston, the dynamic duo behind KROF with a passion for design and a love of good food.
Kristian brings over a decade of experience in the hospitality industry, from much-loved Melbourne restaurant Mr. Miyagi, alongside Nicholas who is no stranger to high-end, functional design, having worked as an alum of Rogerseller and the Miele Design Centre as well as designing ranges for Armani Casa.
Their vision was simple yet ambitious – to create a collection of cutlery that not only looked stunning on the table but was also functional and could stand the test of time in both restaurant and everyday home settings. 
Together, they have created a winning combination that marries aesthetics and functionality, ensuring that their cutlery range complements the refined food we love to eat without forsaking utility.